Printers have been an essential machine for any workplace for decades now. Often, people tend to misrepresent the difference between deskjet and inkjet printers. As a result, they end up buying the wrong one for their office space.
Yes, they have similarities, but they have differences as well, which we'll learn of in this deskjet vs inkjet article.
Deskjet vs. Inkjet: At a Glance
In essence, Inkjet printers and Deskjet printers are pretty much the same types. However, what sets them apart is their branding, along with a few tweaks here and there.
The deskjet is actually Hewlett Packard's (HP) way of presenting their inkjet printer range. So, yes, any deskjet printer uses the same printing mechanism as all inkjet printers. But an inkjet printer can be of any brand and might offer additional features which the deskjet doesn't.
An inkjet printer works by spraying the ink through tiny nozzles; the magnetized plates then channel this to recreate your digital document. The inkjet printer is a go-to option for most people on a budget.
These small nozzles actually help reduce unnecessary use of ink, saving costs in the long run. However, you must be careful when investing in an inkjet printer as the cartridges can be quite expensive.
The deskjet printer has the same nozzle spraying mechanism because of its inkjet origin. However, HP has taken all the drawbacks of your regular inkjet and minimized them to create the deskjet line. While using the same printing mechanism, the deskjet offers higher resolution and better quality prints.
Yes, in terms of price, the deskjet costs more, but it's well worth the money. In most cases, the deskjet cartridges will cost you less in the long run, and the printing consistency is also better.
What Is a Deskjet Printer?
All deskjet printers are basically inkjets modified by HP to fit into their product line. Their success with the deskjet line is what separates it from modern-day inkjet printers. By enhancing the build quality and adding additional features such as cloud printing, the deskjet has become a reliable companion for the long run.
What's more, the deskjet is able to use ink more efficiently than your average inkjet printer. This, in turn, reduces the ink consumption while not having to compromise on the printing quality. Also, the HP replacement cartridges are much cheaper than inkjet refills.
What Is an Inkjet Printer?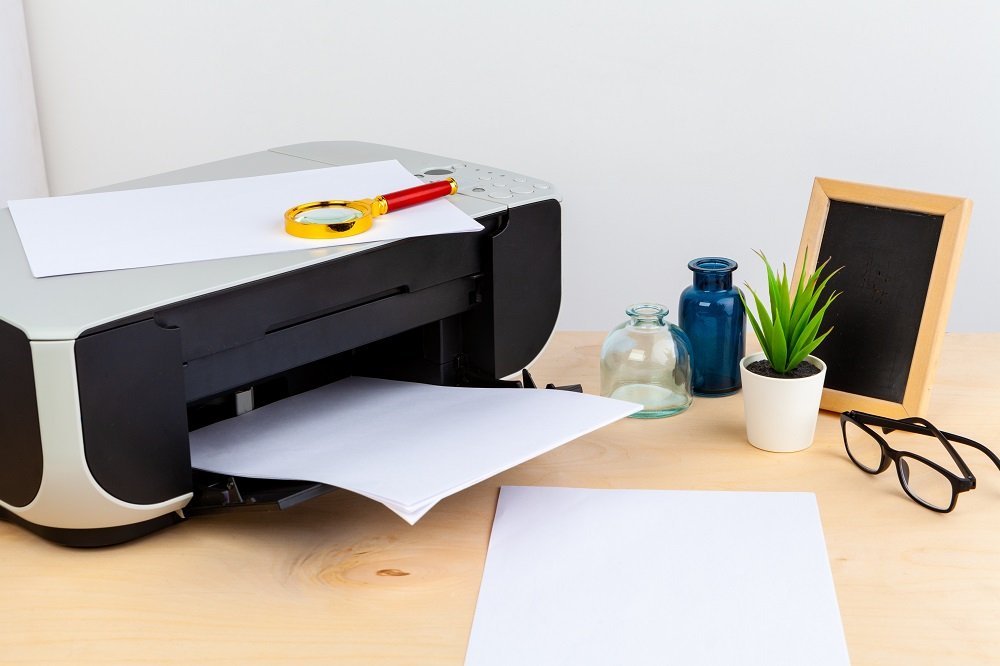 An inkjet printer is a good option for any workspace or household with minimal printing needs. Best for printing out text documents, the inkjet printer will last you months before it runs out.
You will notice the printer's weakness when you begin to print out images. The spray nozzle of the inkjet is not programmed to create high-resolution image printouts.
What makes the inkjet so easy to acquire is its price point. Most inkjet printers are made affordable to cater to all official document printing purposes.
In recent years, the classic inkjet has seen innovation to allow mobile scanning and cloud printing as well; this enhances the functional benefit of the printer and reduces the need for a dedicated computer.
Main Differences Between Deskjet and Inkjet
Inkjet printers are a specific subcategory of printers, whereas a deskjet printer is HP's version of an inkjet. All deskjet printers are inkjet printers, but not all inkjets are deskjet printers.
Deskjet printers offer a maximum resolution of 2400 x 2400 DPI, while the inkjet offers 4800 x 1200 DPI.
The printing speed of the inkjet printer is much faster than the deskjet, but at the cost of printing quality.
Cartridges of the HP deskjet series are more affordable than the inkjet models of similar pricing.
Deskjet printers have disposable printheads, which allows them to maintain printing quality and consistency over the long run. The inkjet printers have replaceable cartridges which only refill the ink without changing the printhead.
Recommended for You:
Deskjet vs. Inkjet: The Comparison Table
| | | |
| --- | --- | --- |
| Parameters of Comparison | Inkjet Printers | Deskjet Printers |
| Cartridge Ink Type | Thermal and Piezoelectric | Thermal |
| Resolution Range | 1200 x 1200 to 4800 x 1200 DPI | 600 x 600 to 2400 x 2400 DPI |
| Additional Features | Scanning and Cloud printing | Scanning and wireless connectivity |
| Printing Speeds | Faster than Deskjet | Slow |
| Printhead Type | Replaceable but expensive | Disposable and inexpensive |
Conclusion
To bring an end to the long-running Deskjet vs Inkjet confusion, we feel the need to restate that they are both the same kind of printers. Only the brand name of the deskjet is what sets it apart.
The inkjet is more affordable and offers quick prints, while the deskjet focuses more on quality, providing higher resolution in both graphics and text printouts.
For lightweight printing needs, spending more money to get a deskjet would not be wise. However, you must also take into account the long-run costs of refilling inkjet printers.