If you are new in the wood carpentry business, then the differences between miter and table saw could be a tad tricky! Sometimes it is even troublesome for the pros. And that is when it all melts down to preferences. Nevertheless, professionals can make this difference because they know a lot about these two.
Therefore, do you want to clear all the doubts regarding the two topics? Well, we will provide you all the necessary information regarding the topic. Plus, we have included a miter saw vs table saw chart, which contains all the relevant information regarding the subject.
All you have to do is finish reading, and then you would have full knowledge about miter and table saw.
About Miter Saw!
If you are done with the previous table, it is time that we start talking about all the other things in detail. In here, you shall find a simple and efficient gist on a miter saw. Thus, by the end of this article, you should have a crystalline concept of what is a miter saw, its functionality, and so much more.
The build of a miter saw is pretty petite. It has a dimension that will enable you to position the item anywhere you need. Apart from that, the design of the machine is what makes it so accurate. If you search for images online, you should see a circular shape in the lower ends; this is the spot where you shall place the wood.
On the platform, there are graduations, which are marked in such ways that they will enable you to cut the wood in any orientation that you require.
You see, each of the markings represents an angle in degrees, and you can choose to cut the wood at an angle that is ideal for you. Thus, enabling to make precise cuts, slice corners, and numerous other tasks.
Difference Between DWS779 and DWS780
About Table Saw!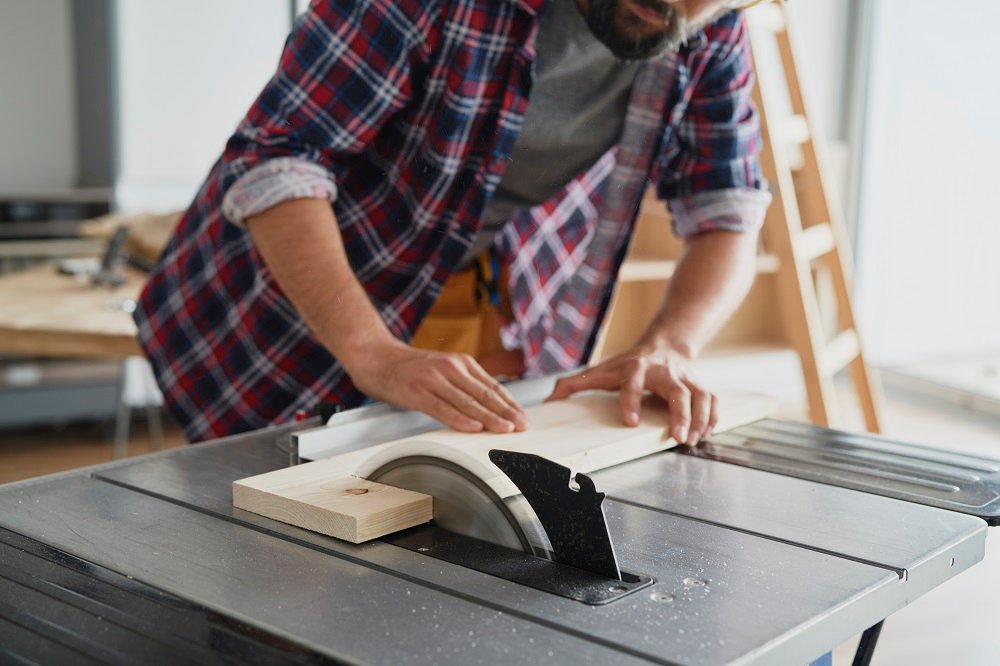 Unlike miter saws, the table saw is a much more effective method! It permits you to cut most of the objects in a matter of minutes and in a straight line. Hence, if you are trying to cut a big piece, the best option for you is to use the table saw. Are you wondering why? Well, the answer lies in its construction.
You should know that table saws have a table-like build. On the table, the blade is situated in a spot. Plus, there is a lock mechanism that permits you to place the wood in it. Once it is in place, all you have to do is slide the wood, and the saw's blade will do its magic.
Now, thanks to this slide method, you can achieve perfectly straight cuts every time. However, this is a massive machine. Due to that, placing the item might not be such an effortless task.
Crucial Difference Between Miter & Table Saw
Miter and table saw are very different machines. They do have an identical fundament. However, apart from cutting wood, these machines are used entirely for different purposes. Besides, they have several other perks. Here is a list of all the differences between the two items:
Miter saw is used conventionally for right angles. On the flip side, the table saw is ideal for cutting big woods pieces in a perfectly straight line.
The table saw is a big machine and positioning it might not be an easy task.
When it comes to power, the table saw has a faster-cutting prowess. However, a miter saw is more about accuracy.
What Are The Differences Between Track Saw and Table Saw?
Miter Saw vs Table Saw: The Comparison Table
Here we shall be comparing the two machines. If you are planning to become proficient in carpentry and take your work to new levels, it is essential that you go through the miter vs table saw chart.
It has a detailed comparison of the differences between the two, and we made sure that they are in a very easy-to-understand manner. So, give it a try!
| | | |
| --- | --- | --- |
| Aspects to Consider | Miter Saw | Table Saw |
| Definition | Miter saws are precise machines. The blades of these saws a conventionally away from the platform, and after the wood is placed in the right spot, you have to press on it. By doing that, it will enable you to cut the wood. | A table saw is a big piece of cutting machinery. As the name suggests, there is a saw popping out of a table-like structure. After placing it in a lock-like mechanism, you will be able to slide it to and from. Thus, allowing you to make quick and accurate cuts. |
| Uses | The terminology miter means to join two or more objects perpendicularly. In short, it is wise to say that the product should be able to cut the wood piece at accurate angles. | If you are looking for a saw that will enable you to make straight cuts with outstanding accuracy, the table saw is the perfect solution. Thanks to its exquisite construction, the product is capable of doing that in an excellent manner. |
| Power | Well, power is something that miter saw lacks. Instead, it mainly focuses on clean and precise cuts. | Since it is able to make long and straight cuts, table saws are considered to be very powerful. |
| Location | Miter saws are not that big. In all honestly, they are very petite in dimensions. Because of that, you can place the item anywhere in your workshop, office, or garage with little or no issue. | When it comes to size, table saws are massive. They are more like a dining table. Anyways, they are big machines that require a lot of space. Hence, you might have to think and consider the dimensions before you go ahead and buy such a contraption. |
Conclusion
By now, you should have a clear understanding of what is the difference between the two items. One is perfect for accurately cutting the angles, while the other is perfect for cutting a wood piece into perfectly straight lines. There are several other differences, which were covered in our miter saw vs table saw table.