SAT and ACT are tests used specifically in US education, therefore this text is focused accordingly. Before a student goes to college, he or she must take some type of assessment test, usually given during the last year of high school. Students may choose either one of these two tests.
Difference Between the SAT and the ACT
There is a difference between SAT and ACT tests and the one you take may depend on what part of the country you live in and which college you plan to attend. Understanding the differences can help you make the right choice to get you started on your college education.
SAT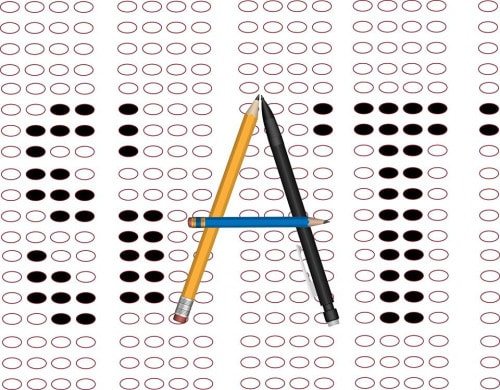 The SAT is a content-based test that covers a variety of topics, including reading, math, grammar, context and analytical writing. The questions are given in several steps and are context and evidence-based.
Each section is timed, with 65 minutes for reading, 25 minutes for calculator math, 55 minutes for non-calculator math, 35 minutes for writing and language and 50 minutes for essay writing. Scoring is done on a scale of 200 to 800 there are two graded sections, adding up to a score of 400 to 1600.
You will not lose points for incorrect questions and the test increases in difficulty as you go. You can choose which scores to give to the colleges you're applying to. The SAT is given four times per year and is most common on the East Coast and in private schools.
Differences Between GRE & GMAT
ACT
Both are content-based tests but one area of difference between the SAT and ACT is on the subjects covered. The ACT covers math, grammar, reading, science, and writing. The timed test is broken into segments, with the allotted times being 45 minutes for English, 60 minutes for math, 35 minutes for reading, 35 minutes for science and 40 minutes for writing.
Test scores are between 1 and 36, with the total being an average score among four test sections. You do not lose points for incorrect answers and are able to give your chosen set of scores to the colleges you're applying to. The test questions are usually straightforward and are sometimes long, but simple to decipher.
The difficulty of the test questions in random and the ACT is offered six times per year. All United States colleges accept ACT scores, but they are most commonly used in public schools, the Midwest and the South.
You May Also Find These Articles Useful:
Let's take a look at the key ways as to how the SAT and ACT differ:
| | | |
| --- | --- | --- |
| Parameters of Comparison | SAT | ACT |
| Calculated scores | 200 to 800 in 2 sections | 1 to 36 in four sections |
| Question difficulty | Gets harder as you go | Random |
| How often can you take it | Four times per year | Six times per year |
| Where is it most popular | East Coast, private schools | Midwest and South, public schools |
| Can you choose scores to share | Yes | Yes |
| Subjects covered | Reading, math, writing and language, essay writing | English, math, reading, science, writing |
| How long is the test | Just under 4 hours | About 3 ½ hours |
If you found this interesting, we've got plenty more great stuff in our newsletter. Why not subscribe today?